The Cafe
Muir Woods Café is located in the heart of the Muir Woods National Monument . Here you'll find a large selection of deli sandwiches, fresh salads, specialty sausages and hot dogs.
Stay cool with the Café's variety of frozen dessert and large selection of ice cold drinks. Need a pick-me-up before hiking? The Muir Woods Café offers freshly brewed Starbucks coffee.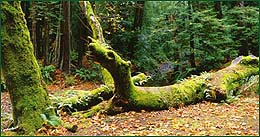 Enjoy your meal inside with a wonderful view of the redwoods or outside, on the forest's edge, on the Café's deck.
Hours of operation
September - May: 9am - 5pm
June - August: 9am - 6pm